With some spare time on our hands the last few months, we've been toiling away at block animation using GreenSock's animation library (GSAP) and the scroll trigger plugin. Unfortunately, it's not quite ready for public release. To be notified when we do release the update with animations, sign up for the early release list!
If you want to try the animation settings out, we do have a working beta on the C9 Blocks GitHub. (Checkout the develop branch to see the settings.) Preview the animation settings and controls in the WordPress editor in the video below. We'll have a full walk-through video tutorial once the plugin is ready for public release.
Despite that, we've released a few maintenance updates to account for a few bugs we noticed with the release of WordPress 5.5, so make sure you update to the most recent version of the blocks plugin from your WordPress admin, or you can download the plugin from WordPress below. The latest version of the plugin is compatible with WordPress 5.5.1.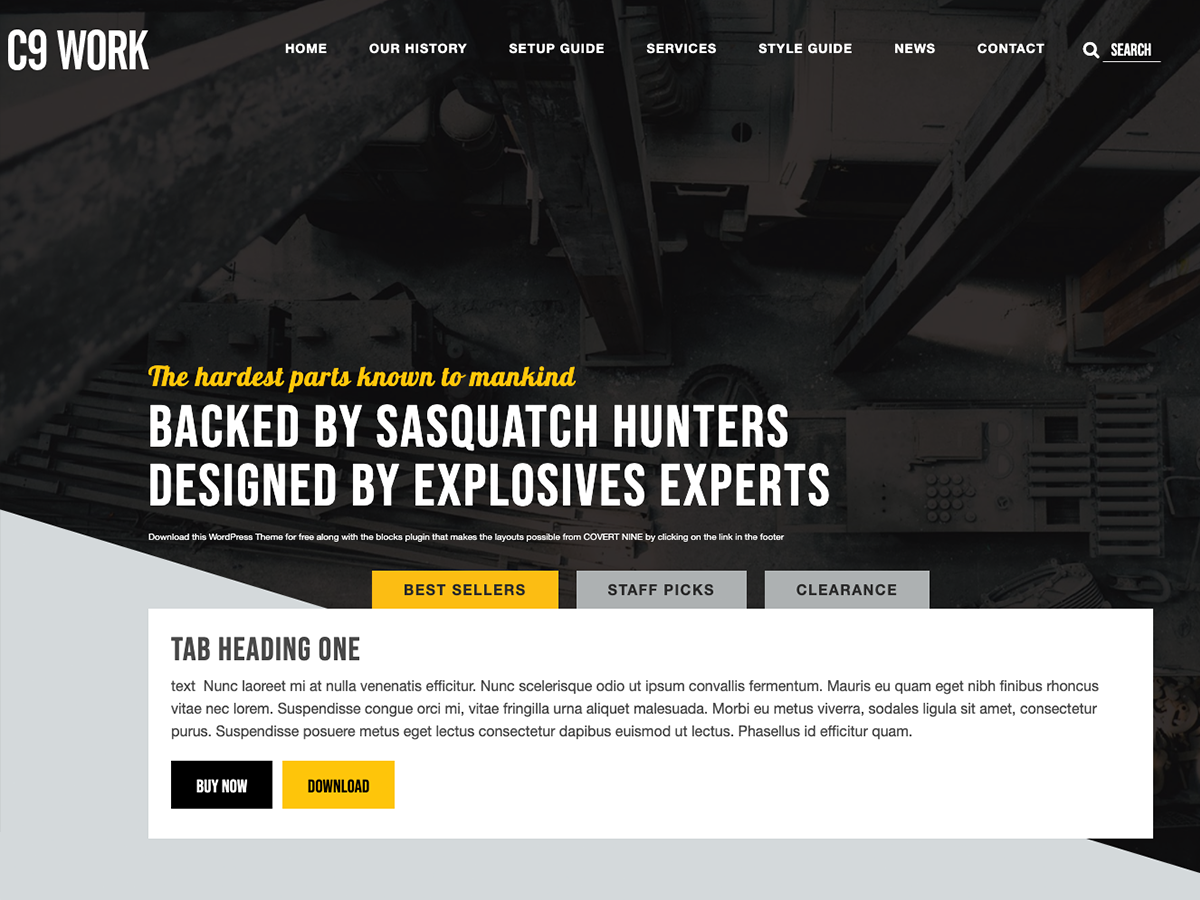 Block-based Theme Updates to C9-Work, C9-Togo, & C9-Starter
This should go without saying, but with updates to WordPress and the C9 Blocks plugin means updates to themes. We've also been working on updates to the C9 Beta themes to make them compatible with WordPress.org's requirements, including that it be GPL compatible, free of germs, and full of lifeless stock imagery.
One of our beta themes, the C9 Work theme, is now available from WordPress.org–with C9 Togo coming soon after that–all of which can be downloaded from one handy place cause we f***ing love you internet.
The C9 Starter theme has also undergone several updates, including making the theme compatible with WordPress.org's theme submission requirements. If you use the C9 Starter theme or have previously, you'll have to update it by re-downloading it here and be sure to update your theme settings that are now under the Customizer.
By the time you're reading this, we'll be back in our caves, working through a freshly stocked mini-fridge of high life and sugar-free Redbull in the mornings, erratically testing animation settings for blocks in a variety of mental states, and getting a few more themes out the door as we continue building our stockpile of arms for the inevitable collapse of society and America as we know it.
Enjoy!
Download the C9 Block-based WordPress Themes, C9 Blocks Plugin, and the C9 Admin Dashboard all from one early access sign-up list
The early access list is for people who use WordPress for marketing, for making websites for other people, or who those of you who love building websites. We'll never sell your information to third parties, and we only send a maximum of one email per week. If we're honest, more like one per month, we WordPress folks are busy these days!
Get on the list, and we'll send you the best block-based themes and plugin links as we release major updates. You may have to scroll through some rambling, but for the most part, we get it all down there. It'll be worth it once you see it's all free. We don't even make you sit through a seminar!
Or you could just be a jerk and download the themes for free and don't tell us from WordPress.org. We're just not going to be your friend anymore.