launchING A CUTTING-EDGE BRAND FOR A CENTURY-OLD COMPANY
HOW a berkshire hathaway glove-MAKER MOVED TO (NEW) EXTREME TERRITORY
Client Objective
Bring a new line of winter gloves to a younger market of skiers and snowboarders – without losing the core audience.
The Idea
Introduce Wells Lamont to each visual social platform's popular influencers by pairing the company's digital style with that of the target market's preferred networks.
Website Design
Website Development
Vue.js Headless WordPress Admin Interface
UI/UX Design
---
COVERT NINE set out to build a brand within a brand that would speak to extreme sports enthusiasts, which meant giving a face to the people who use Wells Lamont's products, the LEVEL1 team. The website would need to automatically update content produced by the LEvel1 team and Wells Lamont would need a place to update the product catalog when it was ready.
When a brand exists for more than 100 years, few challenges qualify as truly "new."
Except, maybe, selling to young audiences on the internet.
…without any photos.
That introduction sounds more dire than we mean it to be, truthfully. But Wells Lamont, a Berkshire Hathaway glove company with more than a century in business, nonetheless found itself trying to launch a new line of products geared towards snowboarders and skiers during product testing. That meant only in-progress product imagery, and no working content for a new website.
It was obvious when Wells Lamont came to COVERT NINE that we'd need to get creative. And putting up another landing page on their corporate website wasn't going to cut it for younger audiences.
Wells Lamont SNOW was the product brand. It had a logo, and the existing Wells Lamont brand guidelines. So the task was twofold: Develop and deliver design concepts for Wells Lamont SNOW, with enough confidence to build the not-yet-existent brand's website at the same time.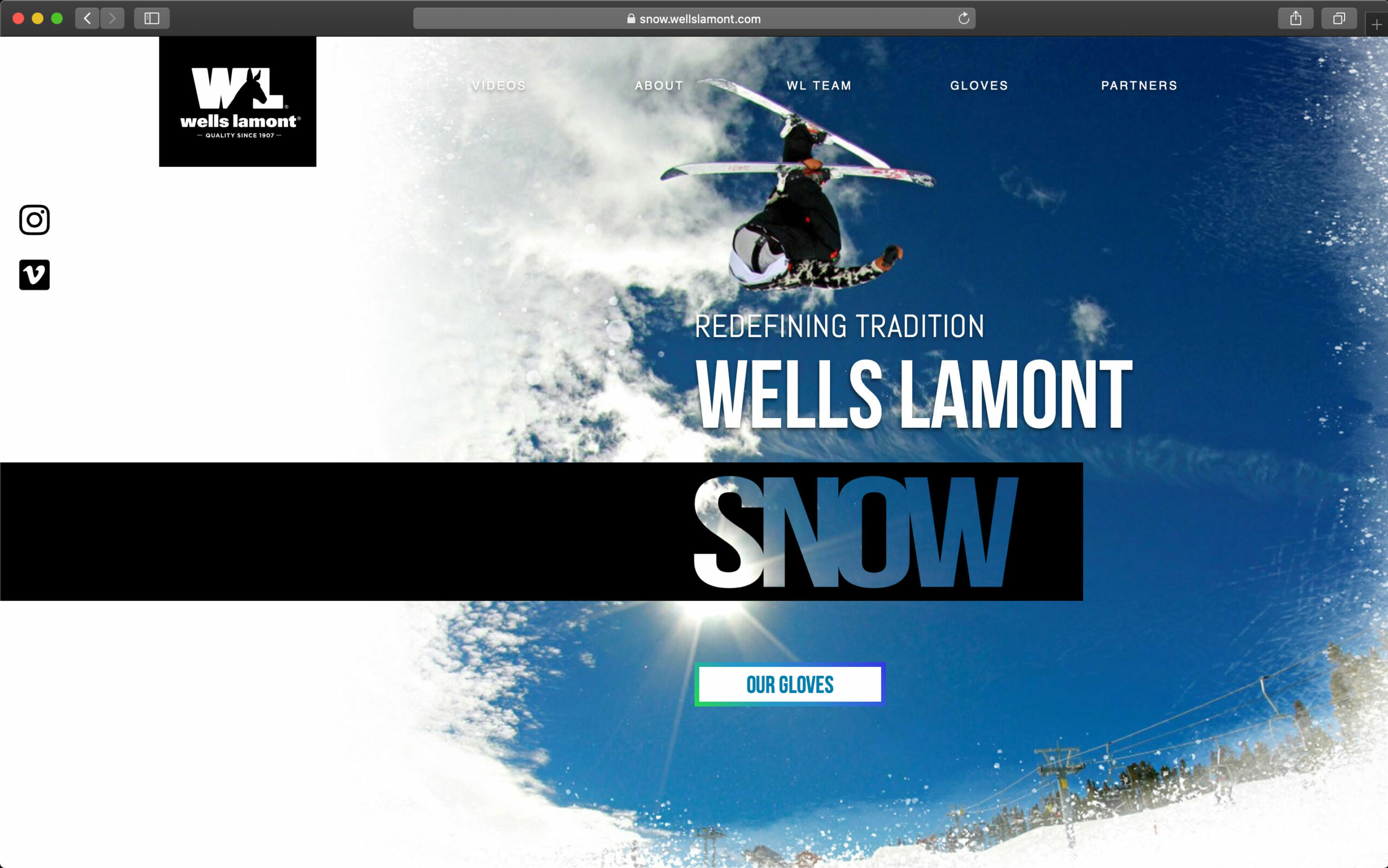 ---
For inspiration, Mallory Phillips, COVERT NINE design lead, looked where the target market already was: visual social media networks like Instagram and Vimeo, where the focus (duh) is on the pictures – not the talk. She delivered three unique looks for a website, based on design elements that younger audiences were already reacting to.
That didn't mean we weren't without questions. What would communicate the new brand most directly?
Would illustrative content deliver an aspirational message, or make it difficult to connect the product to actual lifestyle?
White space, clean fonts, and color highlights might speak more directly, but would they have the immediate impact the new brand needed?
Could we produce quality, relevant photography before the product was ready to ship?
Wells Lamont provided a lot of valuable feedback over the course several rounds of editing. The company opted for a design language that made use of clean, sans-serif fonts, a borrowed font style from the parent style guide, and liberal use of saturated teal and purple gradient colors on the button treatments.
But we were still dealing with a lack of content. How could the brand launch without anything to say? Turns out, the answer came with a technical approach.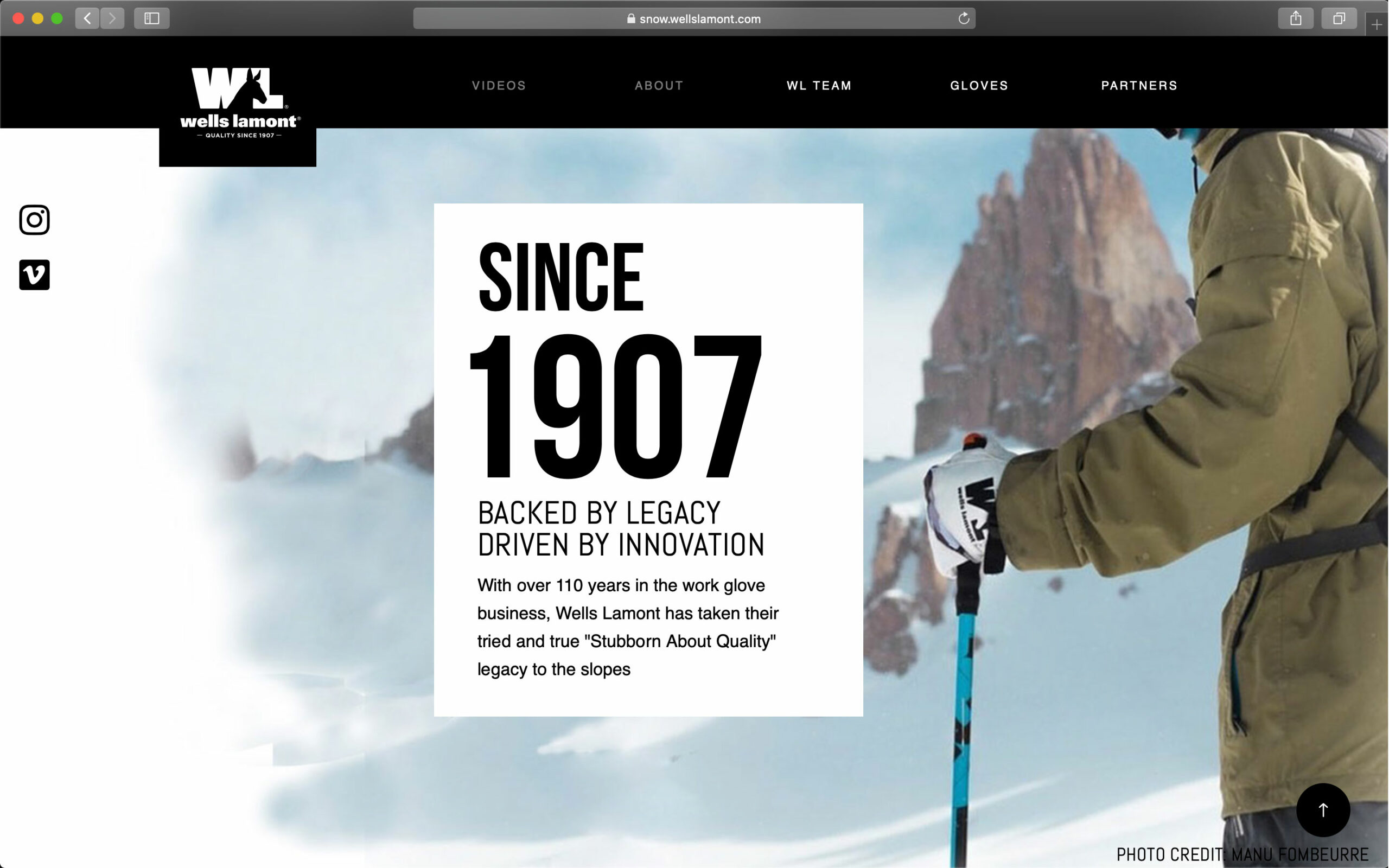 First, COVERT NINE produced a headless WordPress install, with an elegant, customized theme that would look great no matter how many words, links, and modules appeared on screen.
Second, the team designed the site's infrastructure to enable the WL SNOW team with a front end that could be easily updated as more product information became available. The content-light first launch told a short story on its own, which would grow richer as the Wells Lamont team and its marketing partners updated its social channels.
Third, COVERT NINE tied those channels to a number of site touchpoints, meaning new content from the team would automatically gain visibility. Wells Lamont contracted a number of active social influencers to ensure traction with younger audiences.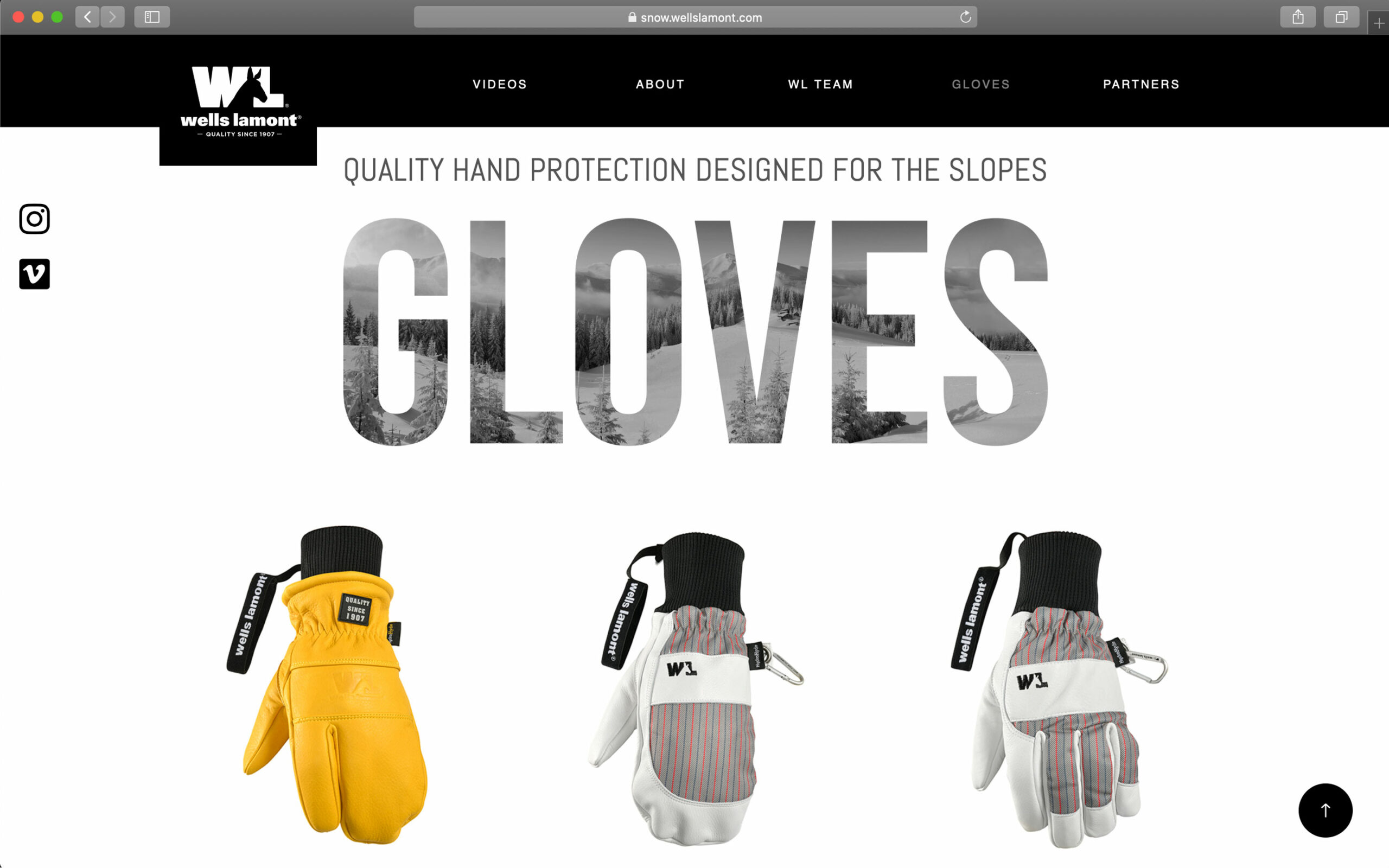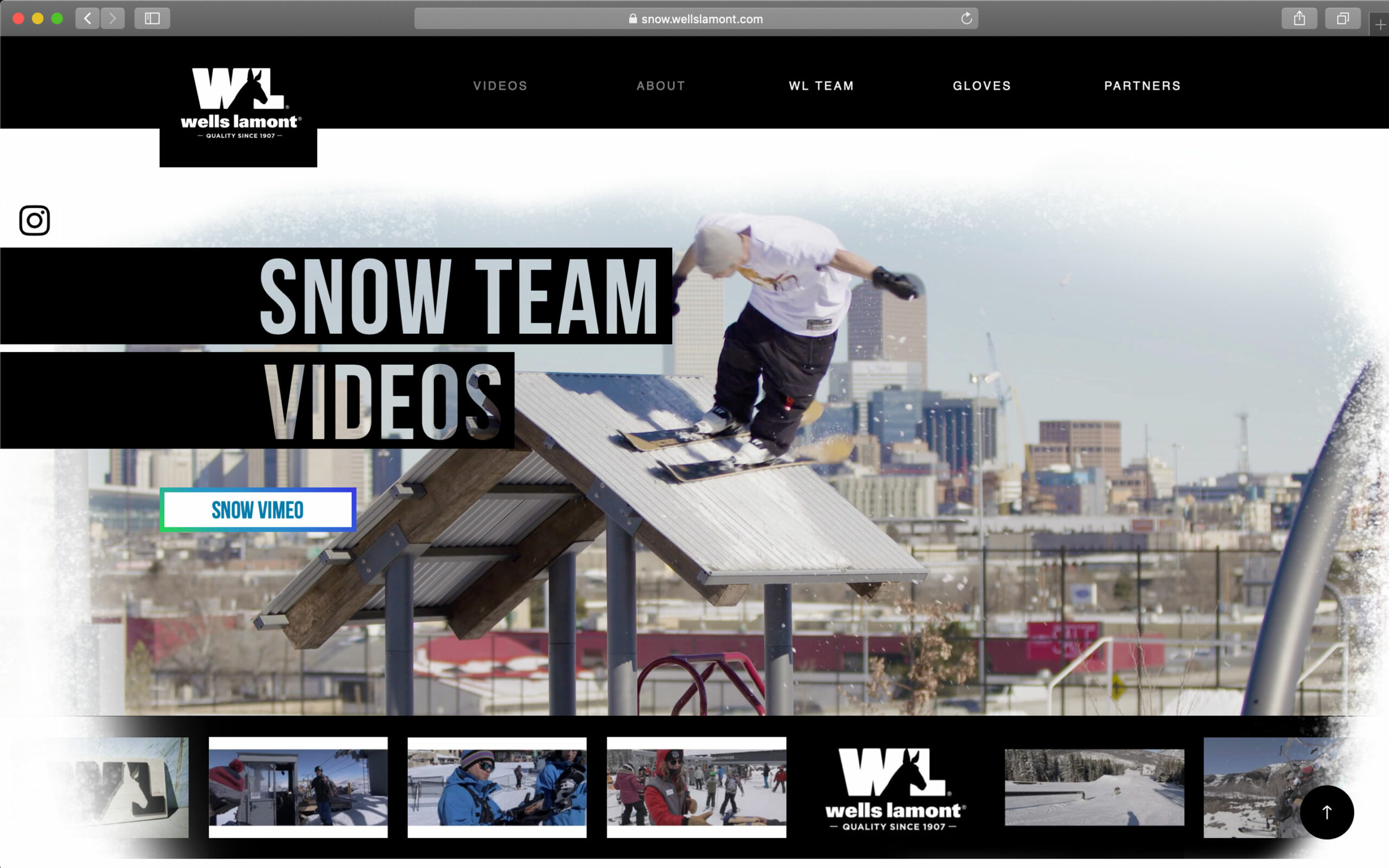 Finally, COVERT NINE focused in on mobile accessibility, with code that responds to any and all devices accessing it.
The result? A big, bold website that requires little to no maintenance, keeps itself fresh with content produced through already-active networks, and maintains standards whether viewed in the office, or at the top of a mountain.
The results
Average site visit lasting 2 minutes, with 5 page views
True full-stack integration with REST API and Vue.js
Minimal back-office maintenance, regular and automatic content updates