Client
Union Tank Car Company
a website RELAUNCH
20 years in the making
DEVELOPING BIGGER DIGITAL IDENTITY FOR A CENTURY-OLD AMERICAN GIANT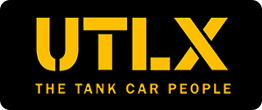 Client Objective
Just how big of a task is it to bring a new, giant, digital identity online for one of the oldest giants in U.S. commerce? The hundred-years-tenured Union Tank Car Company was finally ready to move past its astoundingly durable 20-year old website. We were ready to help.
The Project
Union Tank Car Company wanted to put digital marketing control in the hands of their own team as the company began a new recruiting initiative. Their new site, produced via custom WordPress theme by Covert Nine, delivered on that promise with easily-updated product information, empowered by smart geo-responsive service data.
Website Design
Website Development
UI/UX Design
---
With roots reaching all the way down to the original creation of John D. Rockefeller's Standard Oil, Union Tank Car Company – better known as UTLX – brought a true weight of history to the table when we kicked off a full re-launch of the company's (no exaggeration) 20-year old website.
This wasn't a small project.
UTLX is owned by Marmon Group, a Berkshire Hathaway company, and has more than 80,000 rail cars in its fleet. Managing a business that (literally) stretches coast-to-coast and frontier-to-frontier in North America had a few complex challenges their new site needed to address:
Could customers use the site to find mobile repair locations around the country nearby?
How could a redesign support new recruiting efforts?
What would draw a new audience to UTLX's new digital marketing maneuvers without losing its existing audience?
It was clear from the get-go that UTLX had people on its mind as much as it did rail cars. The company wanted a modern presence online to attract new hires. It wanted its investment to support customers – not just prospects. And it wanted to show off its employees and partners in the awe-inspiring places where they work every day.
UTLX's existing website had the standard company information, its contacts and its products, but it didn't reflect the soul of the organization, or its heritage. After a photoshoot or two and plenty of storytelling and reflection, UTLX's digital identity now looks just like it feels in real life: Big, bold, strong, and above all, functional.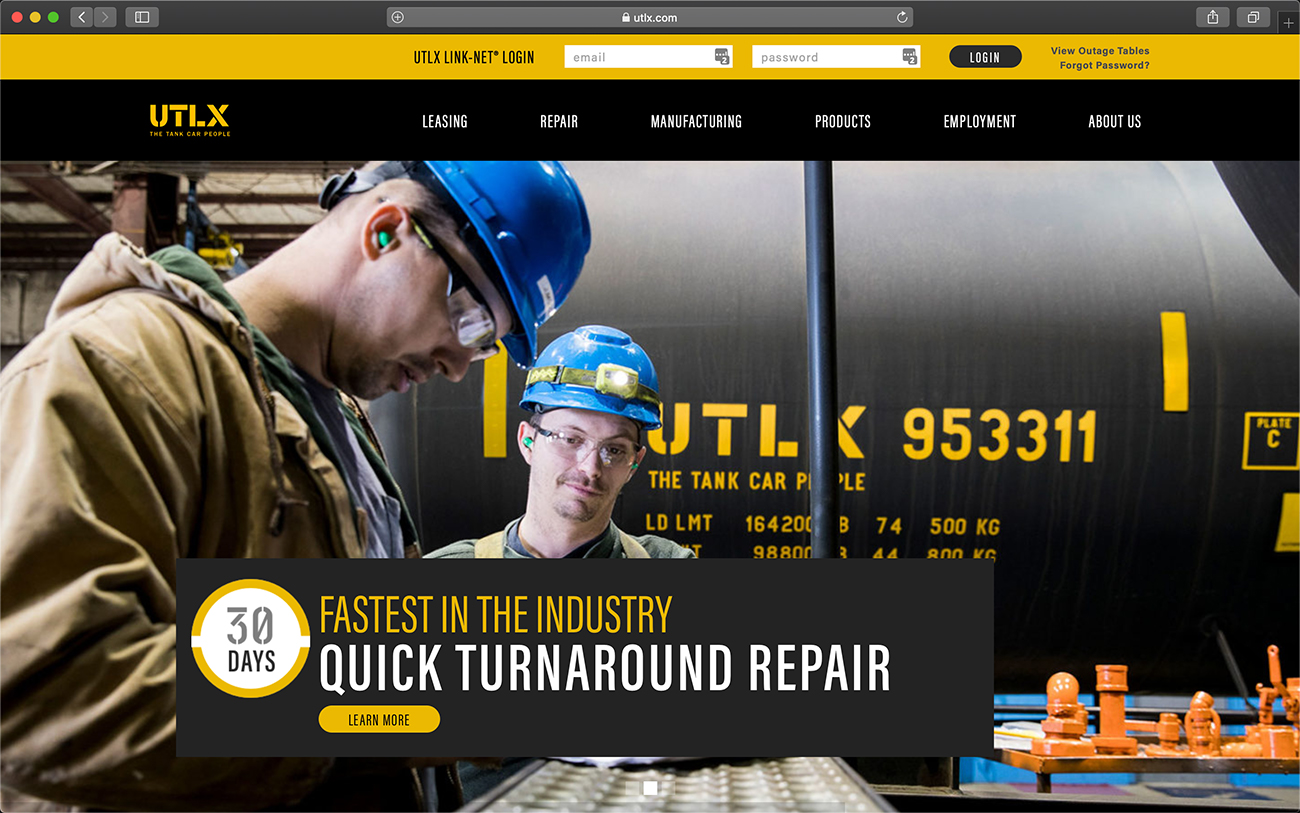 With the help of commercial photographer Dennis Burnett, UTLX aimed its lens at its people right from our initial kickoff meeting. With a site built atop striking, large-scale images of employees building its products right on the line, the company highlighted the massive nature of its business honestly, and directly.
But the true advantage of the new site has less to do with layouts, colors, and words, and much more to do with engaging and complex filtering capabilities that now enable users to find nearby repair facilities by location, hours and service, right from the browser. These were important features to include for a company with such a broad scale, geographically, and with so many customers, associates, and partners constantly on the move.
That's why, when it came to implementation, the team at COVERT NINE focused on user-focused admin.
The site's content and functionality had come up stunning. It was our job to make sure the (figurative) nuts and bolts didn't get in the way. That's why the back end on UTLX.com delivers flexible, easy-to-use means of sculpting landing page layouts to fit the focal point of the photos UTLX picks.
It's a good thing we designed it that way: Since the launch of its site, the company has evolved much of its content in-house thanks to an amazing team of marketers and product experts who now manage the site day-to-day. COVERT NINE continues to manage hosting and maintenance.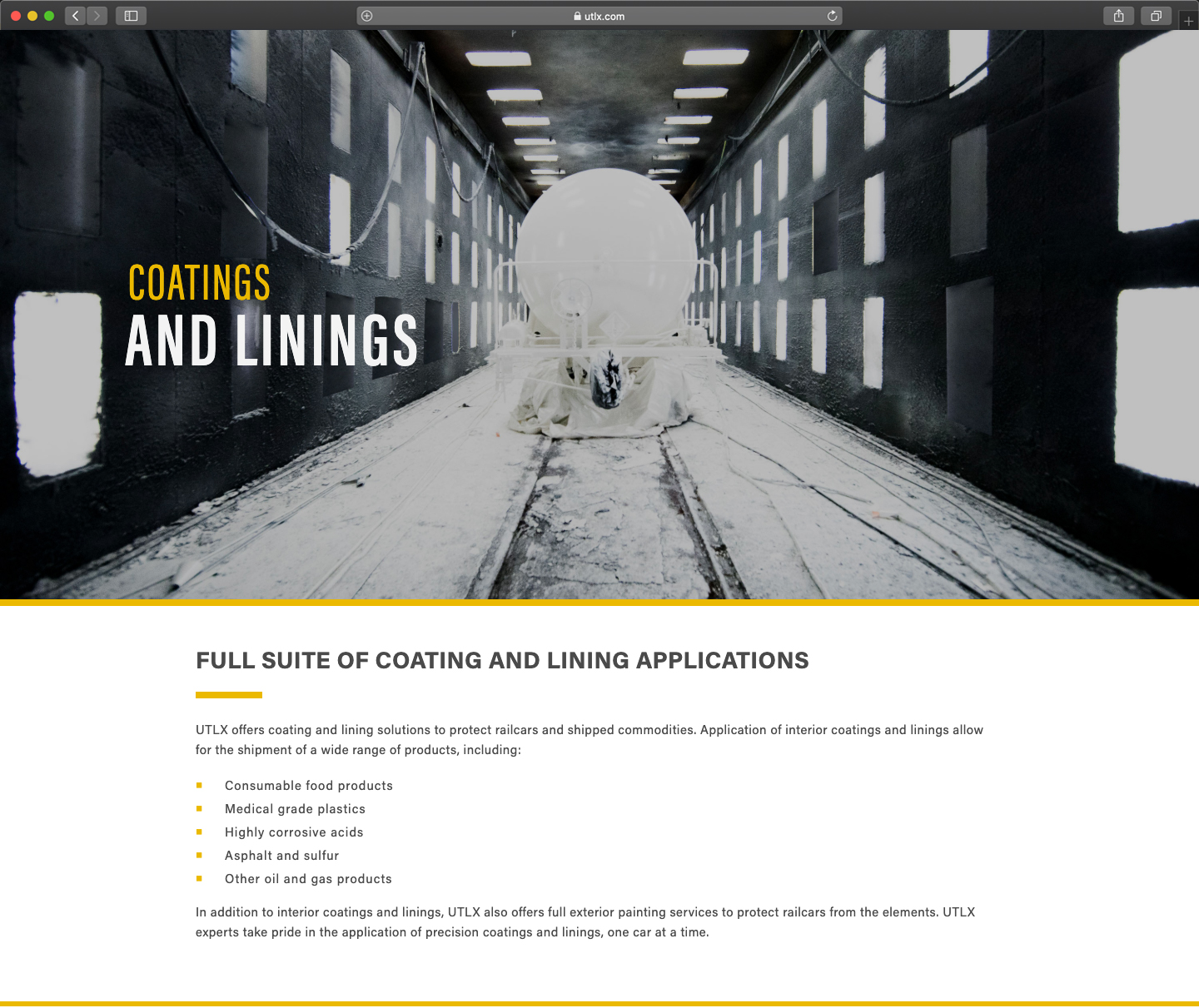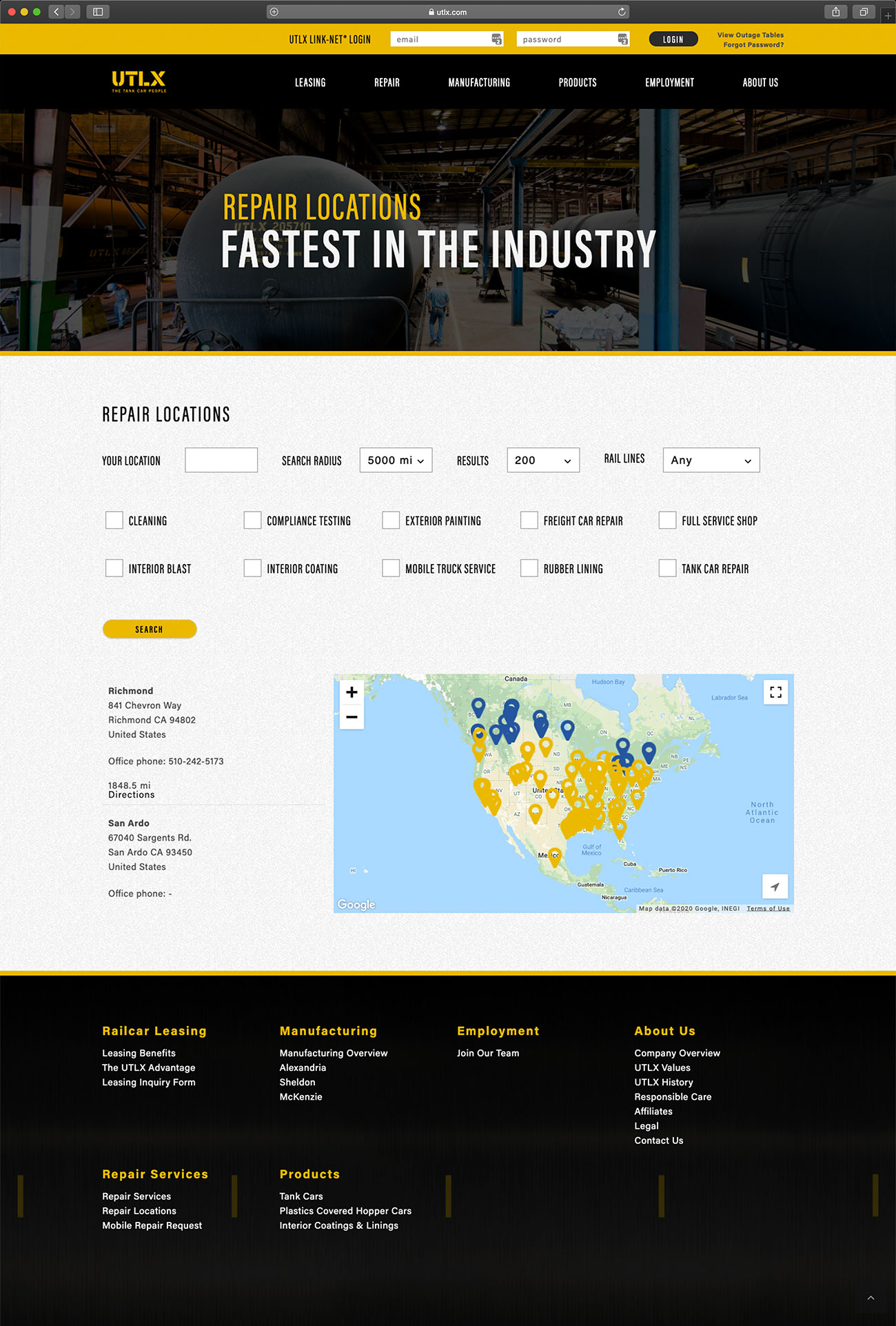 The results
A fully responsive and modern website, accurately representing the soul of Union Tank Car Company.
Reduced customer service call volume
Significant boost in organic search traffic