Search
As of: June 27, 2018
Headline 1: 30 characters
Headline 2: 30 characters
Description: 80 characters
Gmail
As of: June 27, 2018
Subject line requirements
Business Name: 20 characters
Headline: 25 characters
Description: 90 characters
Images
Marketing Image
Landscape (1.91:1): 1200×628 (min required: 600×314)
Square: 1200×1200 (min required: 300×300)
Logo
Square: 1200×1200 (min required: 144×144)
Header Image (optional)
Header image (optional): 1200×400 (min required: 600×200)
More Options
Custom Teaser
Subject Line: 25 characters
Teaser Description: 90 characters
Call to Action
Call to Action: 15 characters
Gmail (HTML5)
As of: June 27, 2018
The overall size limits of your ad are the following:
Your total ZIP folder: <1.25 MB
Number of files: <100 files
File size: <500KB
How to create your collapsed ad
For your collapsed ad, you'll add 2 files to your ZIP folder:
the logo image (named "logo.png," "logo.jpg," or "logo.gif")
the text file (named "'teaser.txt")
Logo Image Specifications
Logo image size: minimum 144px x 144px with aspect ratio 1:1
Maximum file size: 150KB
File formats: PNG, JPG, or GIF (non-animated)
Text File Specifications
Advertiser: 20 characters
Subject: 25 characters
Description: 90 characters
Display URL: 32 characters
The file must be named exactly "teaser.txt"  and the file format must be TXT. Here's an example of a properly formatted text file.
Advertiser: Business Name
Subject: Everything 20% Off at Business Name
Description: Buy new products at low prices!
Display Url: www.example.com
Landing Page: https://www.example.com/sale
How to create your Expanded ad
For your expanded ad, you'll add 1 HTML file and 1 image folder to your ZIP folder:
Image Folder (named 'Images') containing image files for the expanded ad
HTML file named exactly "'index.html"
Image folder specifications
Your ad must contain at least 1 image, and can contain up to 100 images. To embed videos in your expanded ad, jump to the video section below.
Max width per image: 650px
Max height per image: 1000px (Note: For the most effective ads, we recommend of no more than 650px height for the total ad canvas, which includes all your text and images.)
HTML file specifications
Technical Details
URLs: Must contain at least 1 absolute URL (can contain up to 15) and all special characters must be encoded (e.g. spaces, #).
Formatting: Control the layout using standard HTML tables to ensure consistent presentation across devices
Tracking: Static tracking URLs can be used to track external clicks. Impression tracking pixels and dynamic tracking URLs are not permitted. If you are using the "Gmail custom HTML ad" template, make sure to add the tracking URLs you want to use in the index.html file as well as in the teaser.txt file.
Markup: HTML (use UTF8 encoding), some HTML5 tags ( "ARTICLE", "ASIDE", "FIGCAPTION", "FIGURE", "FOOTER", "HEADER", "MARK", "SECTION", "TIME", "WBR"), and some CSS (style attribute of tags only e.g. <div style="color: black" >) are supported
Markup not permitted
Javascript: <script> tags will automatically be removed from the ad
Stylesheets: <link> tags will automatically be removed from the ad
Flash
HTML5: The only supported tags are "ARTICLE", "ASIDE", "FIGCAPTION", "FIGURE", "FOOTER", "HEADER", "MARK", "SECTION", "TIME", "WBR"
Audio
iFrames
Animated images: GIFs
Click here for supported CSS and how to add video to expanded ad HTML file
Display
Animated Ads + Responsive Ads for mobile/desktop
As of: June 27, 2018
Responsive Ad TExt + Images
Short Headline: 25 characters
Long Headline: 90 characters
Description: 90 characters
Business Name: 25 characters
Landscape Image: 1.91:1 ratio

Greater than 600x314px
144dpi
1mb file size limit

Square Image: 1:1 ratio

300x300px
144dpi
1mb file size limit

Logo Image: (optional) 1:1 ratio

128x128px or greater (1200x1200px recommended)
144dpi
Can also have landscape logo at 512x128px or greater (1200x300px recommended)

Less than 20% text on image ad creative
No animation
Animated Display Ads
Ad sizes for optimal click through rate
Recommended Image Sizes

300×250 Rectangle
160×600 Wide Skyscraper
300×600 Half-Page Ad
728×90 Leaderboard
320×100 Large Mobile Banner

30 seconds or less of animation
HTML5 Animation recommended
GIF or HTML/CSS/JS Animation
Can't be looped so it must stop after 30 seconds
150kb file size limit after compression
YouTube

Pre-roll Tru-View video ads on Mobile/Desktop
As of: June 27, 2018
Video Requirements:
Must be uploaded to YouTube
Must be public or unlisted
True Streaming is allowed

Minimum Video Length: 12 seconds
Maximum Video Length:
6 minutes (skippable ads)
15 seconds (non-skippable ads)
6 seconds (bumper ads)
Companion Banner (Optional)
300×60 or 300×250
JPG, GIF, PNG* (only image assets allowed, no 3rd party tags)
150KB (50KB max for non-skippable video)
30 seconds max animation time
YouTube DISPLAY
Desktop targeting Only
As of: June 28, 2018
Still image (or text-based) ad goes over the video with companion banner to the right.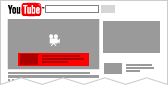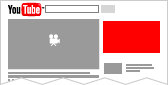 Video Overlay
728×90 or 468×60 (bigger size recommended)
JPG, GIF, PNG* (only image assets allowed, no 3rd party tags)
Still image with no animation
Covers 20% bottom portion of video
Overlay option that has no creative with plain text (lower click rates)
Companion Banner (Optional)
300×250 size, but we recommend using this for any YouTube Display campaign even though its optional
JPG, GIF, PNG* (only image assets allowed, no 3rd party tags)
150KB (50KB max for non-skippable video)
30 seconds max animation time