I've been a daily visitor of FFFFOUND! for some time now, but I have never been lucky enough to receive an invite to actually use it. It's a GREAT source of inspiration for all types of design, and I constantly refer to it and the QBN pic of the day thread for some good laughs and beautiful pictures. After realizing that I had a spare domain name I decided it was time to try and hack together a WordPress theme with a few plugins that would emulate FFFFOUND!, and its related images feature which has been very helpful when looking for design inspiration.
Download the theme: VNovember_ffff.zip
Download the plugins: Yet Another Related Posts Plugin, SEO Friendly Images plugin (optional)
To see the final working version of this theme+plugin: VNovember Image Bookmarking
Preface – What this theme + plugins will/will not do
I knew my version wouldn't function exactly like the real thing, because I don't really know how it works, and because I am somewhat limited to what WordPress has to offer. There were a few key elements of FFFFOUND! that I felt were the most important and useful part of its service, and I'll be trying to replicate that functionality with WordPress and a few Firefox addons:
Related images and recommendations based on post content and tags
Displaying related images on homepage and post pages
Displaying tag counts on the left side of the page
Come up with an easy way to post the images via Scribefire (direct from Firefox) and an easy way to thumbnail the images. (CSS for now)
***I recommend using a blank, fresh WordPress installation with no posts. (Not even the Hello World post) Or else you'll have to go through your database and unpublish all your content posts or else they will start showing up in your related posts section when we only want images to show up
Upload the theme + plugins
I was able to accomplish most of this with some fancy CSS for IE and a few workarounds. For the most part the site is very easy to post to and looks very similar to FFFFOUND! All you need to get this theme working is the VNovember_ffff.zip which contains the WordPress theme. To get these plugins individually you can go to their respective homepages:
Configurable Tag Cloud plugin (This is included with the VNovember_ffff.zip)
After downloading the zip do the following to get your files in the right place.
Unzip the VNovember_ffff.zip theme
Upload the files to the "themes" directory in your wp-content folder
Install & activate SEO Friendly Images plugin from the WordPress admin, and Yet Another Related Posts plugin via the Plugins page
Activate VNovember_ffff theme
Configure the plugins
Now that you have all the files in place you need to configure them. The Yet Another Related Posts plugin has a few settings you'll have to customize–mainly, you'll need to tell it to not automatically display on posts (We're using a custom template yarpp-template-example.php which has been modified) and you'll have to define the template that YARPP uses. The settings I changed were below: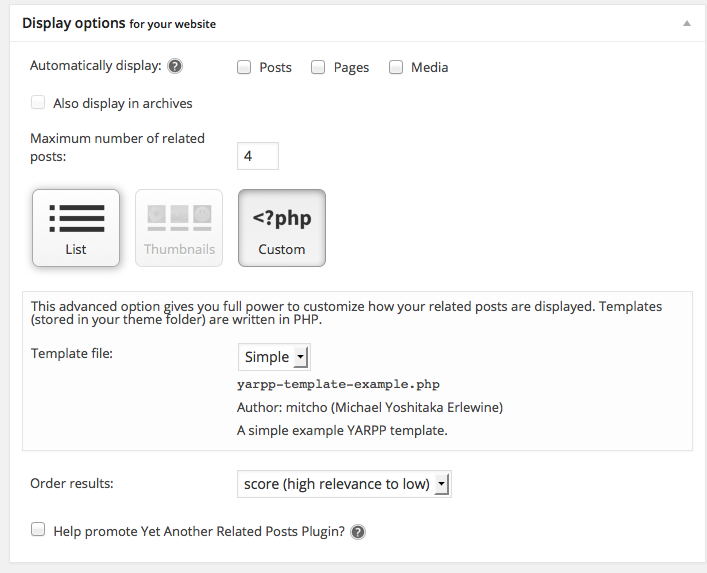 I unselected the rest of the options. The template files will handle the rest of the configuration/display.
From your WordPress admin you need to add the Configurable Tag Cloud plugin to your sidebar. There are two sidebars with this theme, one on the left column and one in the bottom above the footer. Add the Configurable Tag Cloud to your sidebar1 and apply these settings: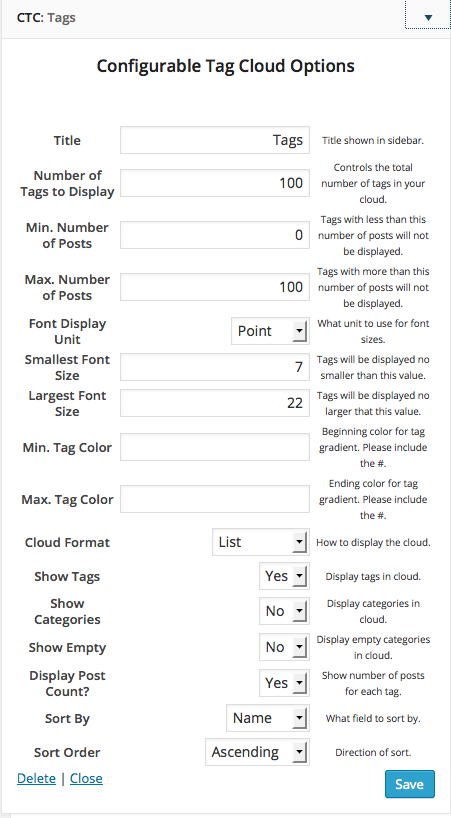 Click save after dragging/dropping and configuring the widget.
Tags, Uploading Images, making it work
The way this theme works is by using the tags you apply to each post to determine which images are somewhat alike. Every time you tag something the plugin will search through your posts and find other images that are similar and display the closest matches.
The easiest way to get images posted quickly is by using the Scribefire Firefox plugin. It takes just a few seconds to upload an image, add the tags, and publish the post all from your browser window. (You can still post from the WordPress Admin if you'd like) You can also snap pictures with your iPhone and use the WordPress iPhone application to post images directly from your phone.
If you decide to use the Scribefire Firefox plugin I recommend turning off the max image with option so that Scribefire isn't trying to put inline styles in your image tags, as well as removing the surrounding paragraph tags so that your spacing won't be wonky.

Some important things to remember:
This theme does not have any commenting or trackbacks enabled
There's no need for multiple categories-just use tags
This theme will only work and display properly if you only post images in your post body section
You can hot link to images or upload them. I recommend uploading images to your own server and putting them in your posts rather than stealing someone else's hosted images.
This theme assumes your WordPress blog only has images, no textual, content related posts. If you want to have content related posts as well then I recommend using pages.
Happy image bookmarking!